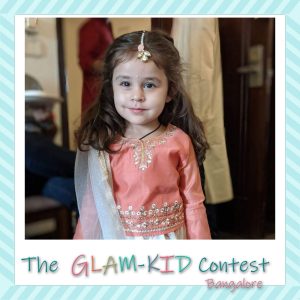 Most of you would be knowing by now about the winner of the Glam-Kid Contest that we held in the
month of January. If not, make sure you read the previous article on our website. You'd be wondering
why to read it by now? Yes, we read your mind. Well, this post is interlinked with the previous article-
"The Glam-Kid Contest."
There are 2 kids' who secured the second prize, 3 kids' won third prize, 4 of the charming kids won
fourth prize, and 24 of the lovely kids' are bestowed with fifth prize. Out of 70+ kids', 34 of them
received prizes from Glamkids.in
Samayra Narula is the winner of the Glam-Kid Contest. Wow! She is an amazing kid with
exceptional expressions. Samayra is being awarded with a "Professional Portfolio Shoot" by one
of the Best Kid Photographers across India. Check out her videos on Tik Tok and Instagram.
 Kiara Mathur is being awarded as "The Cutest Baby." And,
The little munchkin Krishiv as the "The Little Wonder".
These two adorable kids secured second prize in the contest and are part of "Glamkids Star Membership" for the next 1 year
worth 5000 INR.
 Amogh is being rewarded as "The Upcoming Star."
Amyra stands out in recieving an award as "The Cutest Baby". And,
Izhan is our upcoming "The Dancing Star."
Did you all notice why we stressed upon the word 'the' in the above sentence. Well, just check out
the video posted on our Facebook page. You'd know it by yourself :)Nevertheless, we give assurance of about 90% that these kids definitely put a smile on your face.
What is life without smile. Isn't it? Did you smile? 🙂
These three lovely kids' are now part of "Glamkids Pro Membership" for the next 1 year which
is worth of 3500 INR.
Next up, we have four kids' who secured the fourth place in the contest.
i) Thusitha ii) Srinika iii) Dundesh and iv) Avyansh.
All of these kids' gave their best to the competition and are now integral part of "Glamkids
Advanced Membership" worth of 2500 INR for the next 1 year.
We are indeed super excited to announce our 24 endearing kids' who won the "Glamkids Basic
Membership" worth of 1500 INR for the next 1 year. Wondering to read out their names? We
won't disappoint you with that fact.
Here are the names of the kids' who secured fifth place in the Glam-Kid Contest.
i) Prakhyath ii) Shirom iii) Yuvaan Manchanda iv) Kirthanyaa v) Saanika DN vi) Abhyudhay
Vijay Chinmayi vii) Suhani Patro viii) Om ix) Siddharth Vats x) Aryahi xi) Mivaan xii) Manasvi
xiii) Saina xiv) Sanvi Sidhapur Math xv) Dhruva M Kulkarni xvi) Ananta Sharma xvii) Suhani S
xviii) Ved Santosh Janawadkar xix) Viraj Saxena xx) Vivin Gandhi xxi) Aarav Soni xxii) Aditi
xxiii) Viyana Gandhi and xxiv) Manav Ahuja
All of these kids' pictures and the videos of our Finalists are available on our Facebook page.
Stay tuned for our next article. Your feedbacks are always appreciated.
Have a good day 🙂